Please forward contributions to RobCookKC@gmail.com

Today's Prices (Bookmark Channel 14 for the latest updates on your smart phone)

CME LIVESTOCK: Live Cattle: $119.025 (+0.475); Feeder Cattle: $139.025 (+0.05); Hogs: $89.475 (+0.075); Milk: $18.20 (+0.04) (Fri 1:20 pm)

CME GRAINS: Corn: $5.455 (+13.00); Soybeans: $14.30 (+19.50); Wheat: $6.53 (+2.00) (Fri 1:20 pm)

STOCK FLASH: Dow 30: 31,496.30 (+572.16); Nasdaq: 12,920.15 (+196.68); S&P 500: 3,841.94 (+73.47) (Fri 3:00 pm)
MEATBOARD: Boxed Beef Choice: $231.33 (-2.55); Pork Carcass: $95.14 (+1.62); Chicken Breast: $135.46 (-4.72)) (Fri pm)

BOXED BEEF: Choice: $231.33 (-2.55); Select: $220.85 (-0.83); Ch/Se Spread: $10.48; Total Loads: 112 compared to 127 on Thursday (Fri pm)
Great week for U.S. beef exports
Net sales of 22,600 MT reported for 2021 were up noticeably from the previous week and up 15 percent from the prior 4-week average. Increases primarily for South Korea (6,800 MT, including decreases of 500 MT), China (4,500 MT), Japan (3,800 MT, including decreases of 500 MT), Taiwan (2,400 MT, including decreases of 100 MT), and Mexico (2,000 MT, including decreases of 100 MT), were offset by reductions primarily for the Philippines (100 MT).
National Feedstuffs Market Review
The USDA Market News Service reports fed ingredient prices for the week ending Tuesday March 2, 2021 were mixed. Soybean Meal was mixed 8.20 lower to 0.20 higher. Cottonseed Meal was steady. Whole Cottonseed was steady to 10.00 higher. Canola Meal was steady to 18.20 lower. Linseed Meal was 15.00 lower. Sunflower Meal was 10.00 to 25.00 lower. Crude Soybean Oil was 190 to 387 points higher.
U.S. Beef Export Situation and Update
U.S. beef exports totaled 2,566.7 million pounds in 2020, down 2.3 percent from the previous year but still the third largest annual beef export total. The COVID-19 pandemic caused sharp disruptions in beef exports at times during the year with monthly exports down over 30 percent year over year in May and June. However, exports recovered by year-end with combined November and December beef exports up 12.6 percent year over year. Figure 1 shows the shares of U.S. beef exports in 2020.
CATTLE TRADE: Central U.S. Daily Direct Feedlot Slaughter Cattle Report

Thus far for Friday in Colorado and Western Cornbelt negotiated cash trading has been limited on light to moderate demand. In Colorado live purchases traded steady at 114.00 when compared to the last reported market on Wednesday. In the Western Cornbelt, a few, live purchases traded at 113.00. However, not enough live or dressed purchases for a full market trend. Last week in the Western Cornbelt live and dressed purchases traded at 114.00 and 182.00, respectively. So far for Friday in Nebraska negotiated cash trading has been mostly inactive on very light demand. In the Southern Plains negotiated cash trading has been at a standstill. Wednesday was the last reported market in these regions with live purchases at 114.00 and dressed purchases, in Nebraska, traded at 180.00.
REAL TIME PRICES: The largest string sold on Friday was 318 heifers (613#) from Burwell, Nebraska at $149.25

National Drought Monitor

More storms moved into the Northwest and Northern Rockies this week, boosting snowpack and improving drought conditions. The rest of the West and the Plains were mostly dry. According to the latest U.S. Drought Monitor change map, heavy rains from eastern Texas through parts of Arkansas, Mississippi, Tennessee, and Kentucky reduced dryness and improved pockets of drought, while Texas saw both improvements and degradations. As of March 2, 2021, 38.95% of the U.S. is in drought.

CATTLE SLAUGHTHER: USDA estimates daily cattle slaughter at 109K head, compared to 119K last week and 119K last year (Fri)

THE BEEF READ: Green... There is no other explanation that packers are well supplied by captives because the FI slaughter is enormous for March for any time in the last 10 years (The Beef)
DAILY DROP: The hide and offal value was estimated at $9.80, unchanged from Thursday
NBW Reports

Cattle Inventory By State: This Year vs. Last Year
Cattle Inventory Highlights
Cattle Inventory: Ranking Of States With The Most Cattle
Cattle on Feed
Cattle Slaughter By State
Cold Storage
Corn Progress By State
Estimated Weekly Meat Production
Export Sales Highlights
Farms and Land in Farms Highlights
Livestock Comments
Livestock Slaughter
Livestock, Dairy & Poultry Outlook
Milk Production By State
National Drought Monitor
National Feeder Cattle Report
National Grain Report
Natural Gas Weekly Update
Number Of Farms By State
Quarterly Hogs & Pigs
Price Projections For Steers, Hogs, Milk
Protein Production Estimates
Ranking Of States With The Largest Farms
Ranking Of States With The Most Farms
Ranking Of States With The Most Land In Farms
Red Meat By Production By State
Soybean Balance Sheet
Today's Weather
Top 25: Largest Steer & Heifer Strings Sold Today
United States Ag Production Report
USDA Grain Stocks Report
USDA Prospective Plantings Report
WASDE: Feed Grain Outlook
WASDE: Livestock, Dairy & Poultry Outlook
WASDE: Oilseed Outlook
WASDE: Wheat Outlook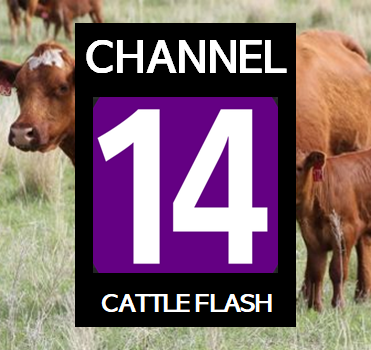 Rob Cook, RobCookKC@gmail.com