Today's Weather: Slow-moving cold front

In the West, excessively hot weather continues in the Desert Southwest. On July 12, the high temperature of 128ºF in Death Valley, California, represented the highest reading in that location in 7 years, since July 4, 2013. Meanwhile in the Four Corners States, an increase in cloudiness and widely scattered showers signal that the monsoon circulation is starting to become established. Elsewhere, cooler-than-normal conditions linger across the Northwest.

On the Plains, a strong cold front crossing Montana is preceded by a few showers and thunderstorms. Farther south, thunderstorms are heaviest this morning in parts of Oklahoma. The southern Plains' rain is providing temporary relief from extremely hot weather; on July 12, daily-record high temperatures in Texas included 106ºF in Borger and 104ºF in Amarillo.

In the Corn Belt, mild, dry weather favors a rapid pace of summer crop development. On Saturday, July 11, scattered thunderstorms from Minnesota into the Ohio Valley and lower Great Lakes region resulted in localized wind and hail damage to crops such as corn, soybeans, and winter wheat.

In the South, mostly tranquil weather prevails, although scattered showers linger in the southern Atlantic States and the eastern half of the Gulf Coast region. Very hot, humid conditions in the western Gulf Coast region are increasing stress on livestock.
Outlook: A slow-moving cold front will spark widespread showers and thunderstorms, starting today across the Plains and upper Midwest before shifting by mid-week into the eastern Corn Belt. Midwestern 5-day rainfall totals could reach 1 to 3 inches. Meanwhile, spotty showers will occur in the Southeast. Little or no rain will fall in the West, except for the development of a few monsoon-related showers in the Four Corners States. Mostly dry weather will also persist in Texas. During the next several days, Midwestern temperatures should remain at near- or slightly below-normal levels. Elsewhere, cool conditions in the Northwest will be replaced by warmer weather, while extreme heat will persist for the next several days across the southern Plains and the Southwest.

The NWS 6- to 10-day outlook for July 18 – 22 calls for the likelihood of hotter-than normal weather nationwide, except for near- or below normal temperatures in northern sections of the Rockies and High Plains. Meanwhile, drier-than-normal conditions in most areas from the Pacific Coast to the southern half of the Plains should contrast with near- or above-normal rainfall across the northern Plains and in most areas east of the Mississippi River.
Contact: Brad Rippey, Agricultural Meteorologist, USDA/OCE/WAOB, Washington, D.C. (202-720-2397) Web Site: http://www.usda.gov/oce/weather/pubs/Daily/TODAYSWX.pdf

NBW Reports

Cattle Inventory By State: This Year vs. Last Year
Cattle Inventory Highlights
Cattle Inventory: Ranking Of States With The Most Cattle
Cattle on Feed
Cattle Slaughter By State
Cold Storage
Corn Progress By State
Estimated Weekly Meat Production
Export Sales Highlights
Farms and Land in Farms Highlights
Livestock Comments
Livestock Slaughter
Livestock, Dairy & Poultry Outlook
Milk Production By State
National Drought Monitor
National Feeder Cattle Report
National Grain Report
Natural Gas Weekly Update
Number Of Farms By State
Quarterly Hogs & Pigs
Price Projections For Steers, Hogs, Milk
Protein Production Estimates
Ranking Of States With The Largest Farms
Ranking Of States With The Most Farms
Ranking Of States With The Most Land In Farms
Red Meat By Production By State
Soybean Balance Sheet
Today's Weather
Top 25: Largest Steer & Heifer Strings Sold Today
United States Ag Production Report
USDA Grain Stocks Report
USDA Prospective Plantings Report
WASDE: Feed Grain Outlook
WASDE: Livestock, Dairy & Poultry Outlook
WASDE: Oilseed Outlook
WASDE: Wheat Outlook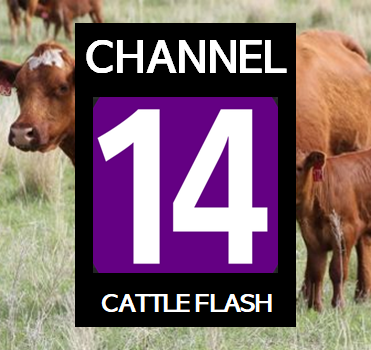 Rob Cook, RobCookKC@Gmail.com