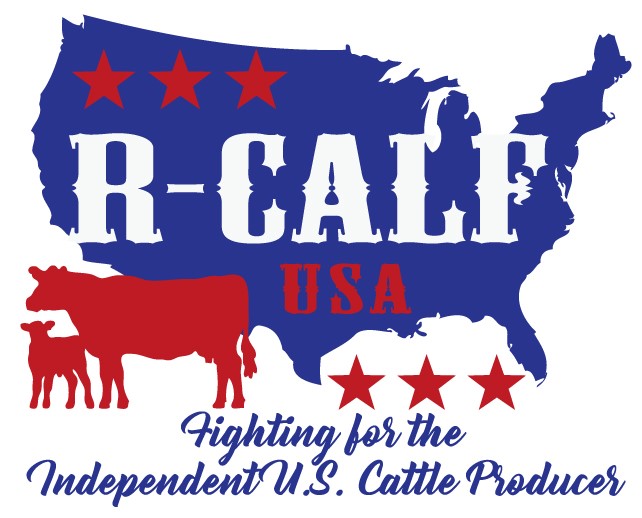 R-CALF USA Plows into a Foreboding 2020; A Sweet Look Back on A Successful Fall Run Calf Sale Run!
Billings, Mont. - As cattle ranchers reel from the reality of flat and failing markets, producers donated calves in support of the organization's initiatives ranging from radio frequency identification (RFID), Mandatory Country-of-Origin Labeling (M-COOL) and the anti-trust class action lawsuit against the "Big 4" beef packers filed in April of last year. The calf sale auction fund-raisers make the organization's ongoing work possible while also drawing attention to the cattle industry's dysfunctional markets. R-CALF USA remains exclusively funded by its dues-paying independent cattle producer membership from 45 states and by producers, main street businesses and others who contribute to various fund-raising activities.
St. Onge, S.D. - St. Onge Livestock in St. Onge, S.D. was host to the first of the last of the 2019 R-CALF USA Fall Run Calf Sales on November 8, 2019. At the sale, $3,111.51 was raised in a roll-over sale.
| | |
| --- | --- |
| | |
| | Carol and Chuck Hendrickson of Hermosa, S.D. |
Carol Hendrickson donated a steer calf in memory of her late husband, Chuck, who passed away in March of 2019. Mrs. Hendrickson explains that "we donated a calf the year before and I just wanted to keep the tradition alive." She reflects somewhat humbly as she explains that "Chuck was a quiet guy, but we both believe in the mission of R-CALF USA and the fact that they are standing for ordinary ranch people...those of us who don't have time to get completely involved with politics."
Hendrickson, with her hands buried in bread dough in preparation for branding as she continues to run the couple's operation wryly adds, "I still have the cows and life goes on. You work hard all year; and, then go to market; and, take whatever they will give you. That is getting old."
She changes her tone from humbly reminiscent to bold as she asserts that "We need our markets back! Our industry is in big trouble with the market the way it is; and R-CALF USA is the only one who has a plan. NCBA (National Cattlemen's Beef Association) is so infiltrated with the packer interest; it has been an uphill battle. Bill (Bullard) is a man who goes above and beyond with his dedication."
Atkinson, Neb. - The crowd at the Atkinson Livestock Market in Atkinson, Neb. showed grand support for the R-CALF USA roll-over sale generating $7,621.76 at its Fall Run Calf Sale. Bernard and JoEllen Kamphaus of O'Neill, Neb. donated a steer calf for the sale.
| | |
| --- | --- |
| | |
| JoEllen and Bernard Kamphaus of O'Neill, Neb. | |
The Kamphaus' raise registered cattle and had a "real nice" cow that came in a bit late. Mr. Kamphaus explains that "She threw a really nice calf, but he didn't fit the conformity of the group so it seemed like a great donation. I just wanted to help R-CALF USA raise some money."
Mr. Kamphaus reflects on the sale noting that "people really showed up to support R-CALF." He adds that "people understand; but the market has left them a bit burned out as they struggle with cattle prices. The people and crowd were impressive." With a bit of aged humility, Kamphaus adds, "At my age, I just like to help."
The Atkinson event was initiated with comments by R-CALF USA Region III Director, Brett Kenzy. Kenzy expressed sentiments of gratitude as he noted that "The turnout at the sale was good. I was impressed with the participation; the barn was very supportive. When a sale barn is supportive, it just works! When they champion an issue it is just much appreciated!" Kenzy reflects with a complimentary tone to the Atkinson community noting that "It was hard not to be optimistic. We were looking at a lot of good cattle; a surprisingly high-quality jag of cattle."
In spite of that optimism, and adrenaline that inherently flows on sale day, Kenzy side-notes that "Cattle people say that they 'sold good for the day,' but, what we really need is for producers to be rewarded appropriately for the value that they create."
Kenzy traveled a fair jaunt to address the Atkinson event. He humbly reflects that "I watched all those good cattle going through the ring; in a barn where I have never been; and, among people I don't know. It struck me how well American cattle producers do their jobs. There were good cattle....after good cattle...after good cattle going through that ring. In a place I had never been, I watched people sitting there so very proud of what they do! I was watching them, sitting with their families living the American dream. We just need a transparent competitive market to compete."
In light of the recent COVID 19 pandemic and R-CALF USA's initiatives, Kenzy ponders, "For the first time in my life, consumers have seen empty shelves. I'm an advocate of M-COOL because I believe that we produce the best beef; and, that consumers want to buy American. Food supply and security have gone from a "PS" (post-script) to the top of the letter; it is more important going forward. Our self-reliance as a country depends upon our ability to sustain ourselves in a crisis."
Along with his family, 48-year old Kenzy runs a small cow herd and feedlot. Kenzy delights as he explains that "Cattle ranching is special because we eat what we grow, and we know exactly how good it is! Cattle ranching is the last frontier of free markets in agriculture. Grain farming is a captured industry as is chickens and hogs; they have to use the subsidy program to survive and each of them are vertically integrated. That is the box they want us in. We don't want a surrogate market; we want a free market."
Kenzy, a deep thinker at heart reflects with trepidation, "The markets that we have seen since 2015 have all of us contemplating the possibility of losing our operations; but, the subsidies being offered in the industry make me think more about losing my freedom and my independence. If we don't fundamentally restore competition to the marketplace; but instead allow the government or packers to create a subsidy program, we have essentially shed the risk and the reward" of what he refers to as American exceptionalism.
With passion and well thought conviction, Kenzy goes on to define his coined phrase: American Exceptionalism. "American exceptionalism does not ensure success, but it ensures the opportunity to try." He explains that "We are at a crossroad. We have become so wealthy and incredibly blessed through hard work, free markets and the fundamental freedoms that America gives us. It is up to us to keep that going; a system that gives us the right to try. That is what is at risk!"
| | |
| --- | --- |
| | |
| | Mo-Kan Livestock Market in Butler, Missouri |
Butler, M.O. - Jim Hertzog, owner of Mo-Kan Livestock Market in Butler, Mo. donated a calf for the rollover fundraiser hosted on November 20, 2019. Hertzog expresses exuberance when he says, "The crowd was receptive! R-CALF USA is fighting for cattlemen and their voice is heard. Bill (Bullard) is sharp and knowledgeable. Anybody can ask him a question and he responds with an honest and truthful answer."
As owner of the Mo-Kan Livestock Market, Hertzog lives the story: cattle producers of Missouri are facing a dire situation. Without reservation he asserts that "Something has to change! What the packers are doing to cattlemen is sad. The spread between the fat price and boxed beef is ridiculous."
Hertzog is adamant that the "Packer collusion needs to be broken up." He speaks with seasoned wisdom and experience as he explains that "Between the packers and the CME (Chicago Mercantile Exchange); they establish the value of a calf coming right off the cow...they control our livelihoods. The CME is not functioning as it was designed to function. When four packers harvest 80-85% of fat cattle; they CONTROL it 100%. It is a monopoly; and, the packers are taking advantage of both the producers and consumers."
Hertzog reverts to further discuss the CME. "The CME was supposed to be a tool for hedging to protect people with skin in the game. It was bought out by speculators, hedge funders and big money. They have made a game out of our livelihood as they run the board up and down. It isn't live people trading in our market, it's just transactions queued by algorithms that devastate our commodity prices."
In a desire to seek solution, Hertzog asserts that "We need more packing plants around the country; and unless we do, our situation won't change. They don't have to be huge plants; it could be reminiscent of the 60's or 70's when processing was much more local."
Valentine, Neb. - Tim & Dee Painter donated a bred heifer at the Valentine Livestock Auction at R-CALF USA's Valentine, Neb. Fall Run Calf Sale on December 12, 2019. The sale followed consistently with successful earnings of $7,350.
Heifer with calf donated by Tim and Dee

Painter of Valentine, Neb.
Dee is hopeful that the sales will garner support for the organization. She explains that "We did it to support R-CALF USA. R-CALF shoots straight from the hip!"
Dee is especially adamant that consumers should be educated about where their beef comes from. She explains that "consumers see 'USA Beef' and believe that they are supporting U.S. producers and getting USA product; but they aren't. We need to speak UP! Consumers seem to be enduring information overload and they don't know what to believe."
Dee explains that the Painters are adamant supporters of R-CALF USA; and, she is hopeful that the lawsuit (R-CALF USA's antitrust lawsuit with the Packers) will provide remedy to that situation. She explains that "I've been ranching my entire life and 60 is sneaking up. Over the years, producers are giving more and more up to packers who are taking advantage of both the producers and consumers." Painter is encouraged by the recent involvement of the Department of Justice's antitrust investigation.
Belle Fourche, S.D. - Belle Fourche, S.D. was the final rollover calf sale in a series that proved to be fruitful and productive for R-CALF USA. The sale was held at the Belle Fourche Livestock Market on January 9, 2020 and earned $6,167; $3,083 was raised for R-CALF USA and $3,083 was raised for the South Dakota Stockgrowers Association (SDSGA).
Vaughn Meyer who serves as R-CALF USA Checkoff Chair; and Vice President of the SDSGA is owner of Sodak Angus Ranch in Reva, S.D. Meyer donated a Black Angus steer to the cooperated event.
According to Meyer, "The sale went real well. It was the first major sale of the year. Main street businesses were super supportive. The event was well attended and well received. Times are tough! People are hurting. We were glad to be able to help as much as we could."
Meyer is pleased with R-CALF USA's progress. "R-CALF USA is doing real well and we are getting lots of new members. People are starting to realize that we are the voice for the independent cattlemen. There are surely a lot of people wanting to help and we have the industry's attention. RFID was shut down and that was a huge win!"
Meyer is especially optimistic in light of a recent petition being championed by Kerry Cramton, a Kansas producer who supports M-COOL. According to Meyer, "It appears that the consumer is seeing the meat distribution issues in this country; and they are signing on with R-CALF USA!"
Meyer continues noting that "People are disappointed with the market; fats and feeder calves; yet the consumer is paying record high prices. It is amazing that consumers go to the meat market and there is nothing there! I think there is great hope for the future. This is the first time I have seen consumers putting food on the top of their priority list; over entertainment and other things. If there is anything that will help settle or fix our markets, it's the consumers and congressional representatives being aware of the monopolistic packers!"
From R-CALF USA's letter that kicked off its Fall Calf Sale Run, more than $74K was raised to help draw attention to the dysfunctional markets. Since the Fall Calf Sale Run, R-CALF USA's recent accomplishments include stopping a costly RFID requirement on all cattle that cross state lines or Tribal boundaries; helping to introduce legislation that would require packers to purchase at least 50% of their cattle in the cash market; creating a new "Connecting Consumers to Producers" Website at www.USABeef.org that has 473 farms, ranches and businesses from 43 states currently listed; getting over 393K signers on its petition at www.DemandUSABeef.com that urges the President and Congress to immediately pass M-COOL for beef, pork and dairy products; and R-CALF USA is leading what is now a national effort to enforce U.S. antitrust laws in the beef packing industry.
To help R-CALF USA's ongoing efforts on behalf of independent U.S. cattle producers please go to www.SupportRCALF.com.